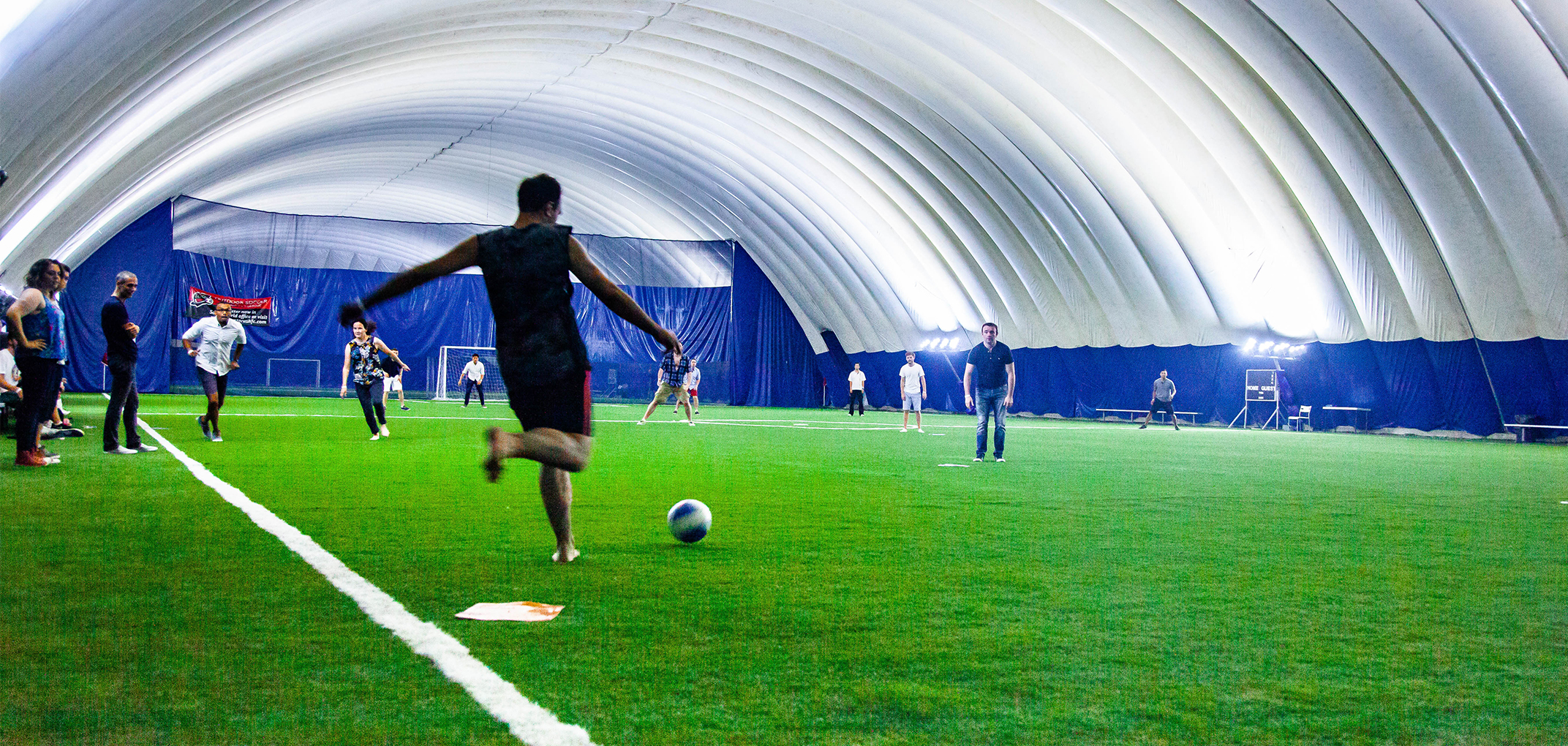 Soccer baseball is a popular schoolyard game that pulls the best elements from two of the world's most engaging sports. The objective of the game, like baseball, is to score more runs than the other teams by crossing the plate after kicking the ball into play. In this game you get to kick like Messi and run like Henderson.
Soccer baseball is great for small and medium-sized groups looking for team building experiences and some schoolyard nostalgia. For pricing information or to book call (416) 461-4400 or email us at saleem@ballsportspolsonpier.ca.
Soccer baseball is best played with 14-20 people.
Event Timing
Soccer baseball is an innings-based game like baseball. We'll fit in as many innings as we can in the rented time as possible with a cap of 7 innings.
Soccer Baseball 101
The field will be setup like a baseball diamond, with a home plate and three bases laid out in a diamond shape.
There will be up to 10 players in the field. At it's capacity players will be playing the usual 9 baseball positions as well as a rover in the outfield.
There is a cap for a maximum of 7 runs in one half inning.
Like baseball, teams will take turns batting every other half inning. The half inning ends once the defending team has made three outs or the offending team has score the maximum number of runs.
The ball is in play after a "pitch" is thrown along the ground towards the plate. Once an offensive player kicks the ball between the foul lines it's in play.
Each batter is entitled to three pitches.
There is no bunting. All kicks on pitches must be legitimate kick attempts. A kick is a strike with any part of the leg/foot below the knee.
Each half inning consists of three outs.
Outs occur when: a player unsuccessfully kicks a pitch into fair territory after three pitches, a kicked ball is caught in the air before hitting the ground, a runner is tagged with the ball in play not on a base, a ball is thrown at the runner in between bases and hits them below the neck, a force out is made.
Force outs will be in effect at home and first base at all times. A force out means that a defending player with the ball reaches the base before the offensive player. They do not need to be tagged.
Bookings begin at 1 hour in duration and is best suited for 12 or more people.
Facilitated
Facilitated soccer baseball comes with our events facilitator to host your event. They'll be responsible for: engaging your group, organizing and coordinating games, any equipment, keeping score, pitching (if needed) and timing, among other things. Cost is $225-300+tax per field per hour.
Rental
Soccer baseball rental entails you'll have the field available for your time that was booked to do whatever activity you want on the court. If you need a ball it can be borrowed from the front desk in exchange for an ID. Cost is $165-$220+tax per field per hour.
For further pricing information or to book please call (416) 461-4400 or email us at saleem@ballsportspolsonpier.ca.
We're conveniently located just 5 minutes from downtown Toronto in the Portlands. 176 Cherry St.
Contact Us and Play!
For pricing information or to book call (416) 461-4400 or email us at
saleem@ballsportspolsonpier.ca
. All of our prices include field rental costs.