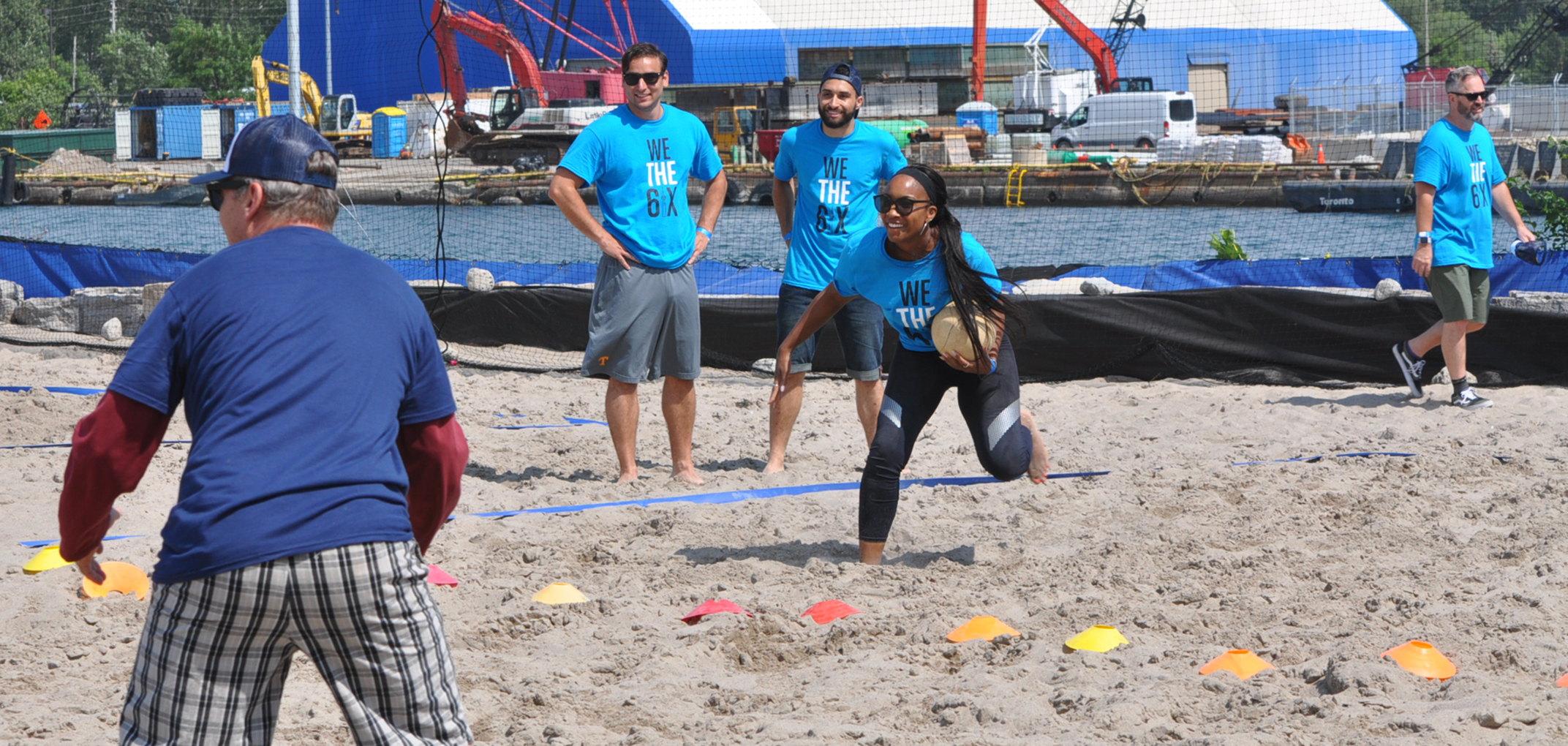 Step barefoot onto our 70,000 sq ft beach featuring 23 outdoor sand courts. Groups of any size can enjoy a game or speak to one of our coordinators about setting up a tournament. For pricing information or to book call (416) 461-4400 or email us at saleem@ballsportspolsonpier.ca.
Suggested Rules:
Beach dodgeball is best played with 12 people (6 per team) on the court at one time.
Time
Dodgeball games can be limited to a set or a series of sets (i.e. best of 3)
Dodgeball games can be timed. In that scenario we recommend getting as many sets in during that time as possible.
The Game/Scoring
6 dodgeballs will be used for each game.
To start a game, each team stands on their respective back line. Three dodgeballs should be placed approximately 3 feet back from the centre line on each half court. The point will then be started by shouting "READY, SET, DODGEBALL!"
Once play has started, players must remain on their own side of half.
Players can lean over the half line to retrieve a ball, but the player cannot touch any part of their opponents half of the court. If any part of a player touches their opponents' side of half, that person is out.
A ball is considered "dead" as soon as it hits the floor, volleyball post, a headshot or any other obstacles around the court. A player is not eliminated after being hit by a dead ball (i.e. if the ball hits the floor, then hits the player, the player is not eliminated). All other balls are considered "live".
Eliminated players should sit/stand on the sidelines by the middle to make it clear who is still in the games. Players not in the game can also retrieve balls for their team still in the game that have left the playing surface on their side of the court.
Players cannot lean up or jump against the walls in an effort to avoid being hit.
Teams are responsible for enforcing rules and ensuring fair play.
There are a few different varieties of dodgeball games that can be played if your group is looking to mix things up.
Prisonball
Powerball
Medic Dodgeball
Pinball
Bookings begin at 1 hour in duration and is best suited for 12 people per court (teams of 6). We only offer facilitated beach dodgeball.
Facilitated
Facilitated beach dodgeball comes with our events facilitator to host your event. They'll be responsible for: engaging your group, organizing and coordinating games, any equipment, volleyball lines, nets, keeping score (if possible), and timing, among other things. Cost is $225 +hst per court per hour.
For further pricing information or to book please call (416) 461-4400 or email us at saleem@ballsportspolsonpier.ca.
Our beach courts are conveniently located just 5 minutes from downtown Toronto in the Portlands. 176 Cherry St.
Contact Us and Play!
For pricing information or to book call (416) 461-4400 or email us at
saleem@ballsportspolsonpier.ca
. All of our prices include field rental costs.