Adult Clinics
If you want to become a better soccer player you need to practice. It's easy to find practice time as a child or teenager, but what about as adults? Once we hit a certain age, the practice time drops off and so do our soccer skills. At Soccerworld, we believe you are never too young to stop improving. That's why we have adult soccer clinics that are available to everyone. Regardless of your age, gender, or skill level, our adult recreational soccer clinics will help you improve your game. We offer both beginner and intermediate clinics to cater to each player's skill level. Our beginner clinic is geared towards individuals who are new to the game or have little soccer experience. Our beginners start with the basics: developing their dribbling, passing, and shooting skills. In our intermediate clinic we expect our participants to have the basics down so they can learn more advanced skills and game strategy.
The goal of our 9 week program is fun, fitness, and improving your soccer skills in a no-pressure setting. The curriculum designed by our Coaching Director Phil and Saleem. They will focus on developing new skills as well as improving your existing fundamentals'. The exercises are fun an easy to understand. Our small class sizes ensure that you get the most out of your interaction with our coaches. Participants in our clinics achieve a greater confidence with the ball from the proven drills and hands on instruction provided. These focused classes are a great way to improve your technical skills and feel more comfortable in game situations so you can have fun playing the most popular game in the world.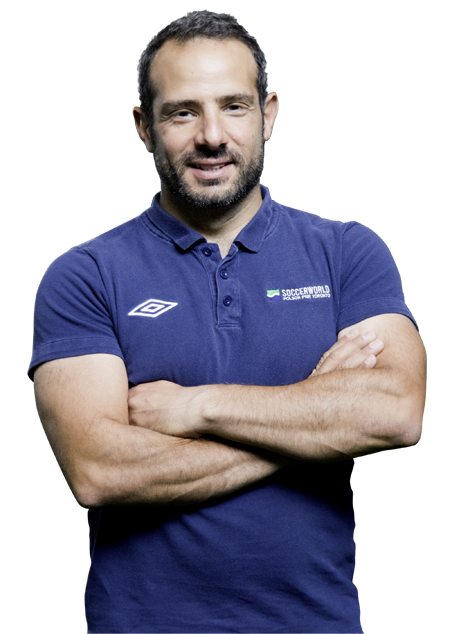 The adult soccer clinics are led by our resident league coordinator Saleem Haddad. Saleem has been involved in our leagues for many years as a player, team organizer and more recently staff member. He has earned his CSA coaching certification and successfully instructed several clinics. In addition, he is also a coach in the UofT Tri-Campus program, where he leads his men's team in weekly practices and in-game strategies.
Phil calls many places home in the UK including London, Sunderland and Kent and has an obvious passion for the beautiful game. Phil was a member of Sittingbourne FC and was also part of the Gillingham FC youth team before taking an extended period away from the game due reoccurring injuries. Since moving to Canada over 10 years ago Phil has enjoyed soccer within the CPSL and still plays locally in the HPSSL. Phil has coached women's and junior soccer teams across the GTA and holds certifications from NSCAA and the OSA and plans to acquire his provincial license later this year. Phil continues to strive to achieve higher level certification and knowledge year after year.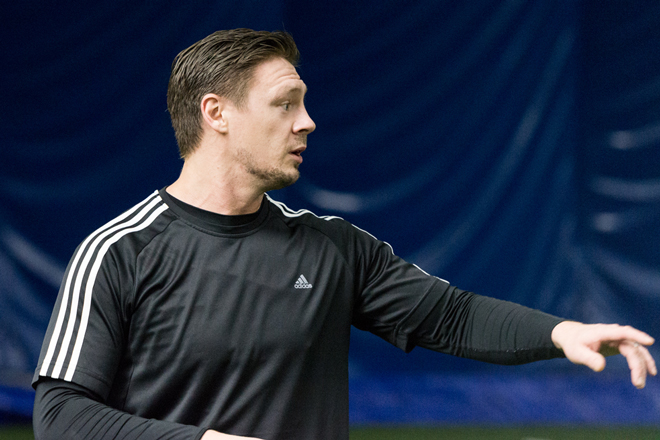 "I saw a big improvement in my playing and fitness abilities in the first clinic, so I signed up for a second clinic, and I could see myself even doing a third. The coaches have created a great environment which caters to both the newbie and the experienced participants."

Brahm Eiley

Soccer Player

"The adult clinic offers a great environment to practice my skills and enjoy my favorite sport. The atmosphere is great, diversified and very friendly. The coaches are very friendly, very professional and manage to keep everybody engaged. I truly enjoyed my first clinic, re-registered for my second and looking forward to continue during the fall and winter ones also. What a great way to spend a Sunday morning!"

Fadl Hussayn

Soccer Enthuisast
Sign up Today
We are currently in the middle of a session but don't worry you can either wait for the next session which starts Jan 9th or drop in on the current session by selecting drop in option when registering.
[contact-form-7 id="4714″ title="Untitled"] [res_map address="43.6397925,-79.3534429 | 43.6390028,-79.42321040000002″ description="Soccerworld | Lamport" directionstext="(directions)" icon="blue | blue" color="bw" pancontrol="no" scalecontrol="no" typecontrol="no" streetcontrol="yes" zoom="10″ zoomcontrol="yes" draggable="yes" scrollwheel="yes" width="100%" height="400px" maptype="roadmap" style="2″ popup="no" center="" refresh="no"]