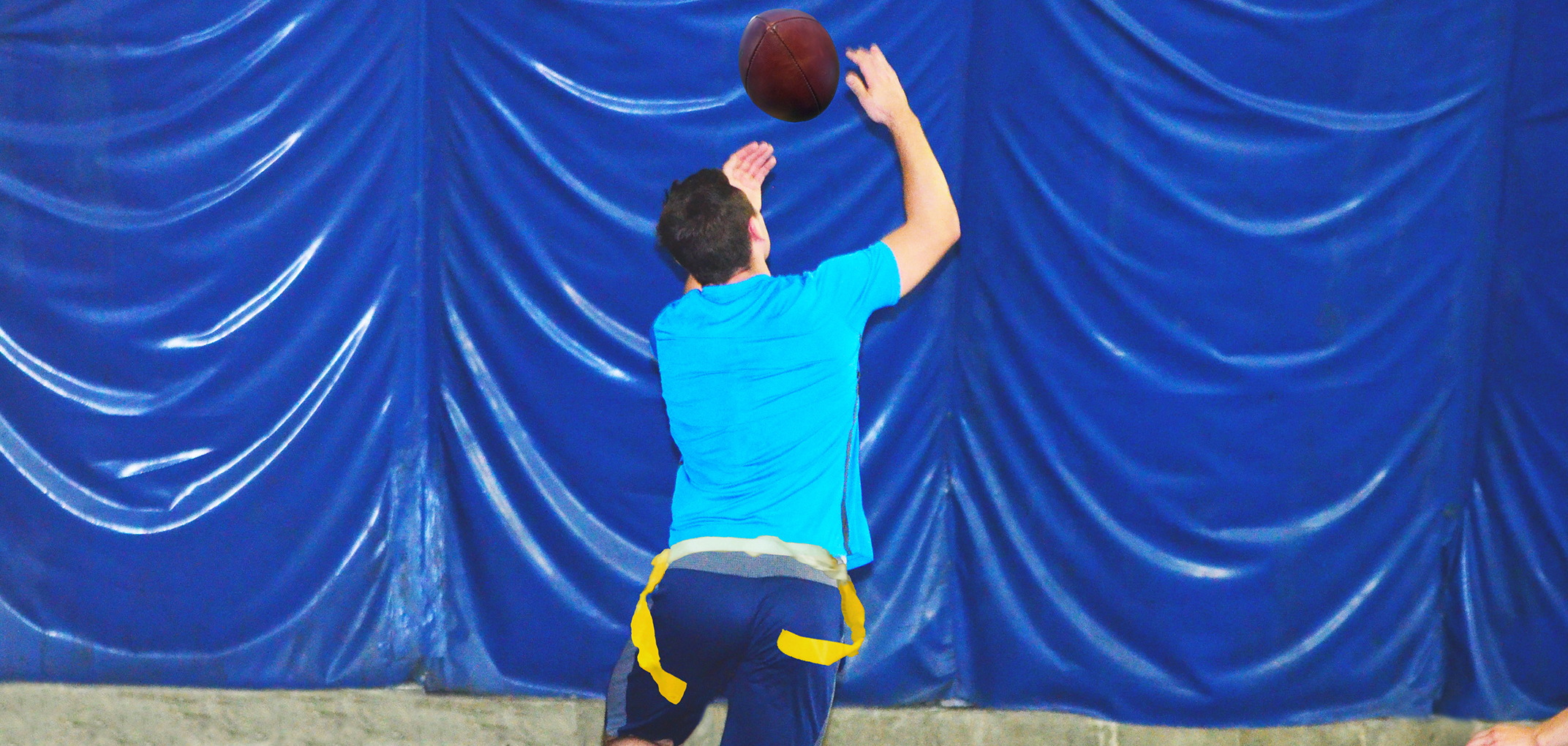 Football, the American kind, is a game where every play could be the difference maker. From long runs to short passes, football is a game where athleticism, agility, and smart play calling is king. Whether you've played it all your life or are stepping onto the football field for the first time, at Ballsports you might be the one deciding the outcome.
Football is great for small and medium-sized groups looking for team building experiences and something unique. For pricing information or to book call (416) 461-4400 or email us at saleem@ballsportspolsonpier.ca.
Football is best played with 10-16 people.
Event Timing
Football is a time-based game and can be modified based on the format of a single game or tournament style.
Football 101
Football is played on a field with an end zone on either end of the field.
The object of football is to score more than the opposing team. To score the offensive team needs to cross the defending team's end zone with possession of the ball.
Each offensive play begins with the ball on the line of scrimmage. The play begins once the quarterback "snaps" the ball to himself or by a teammate after yelling "Hut."
The play is over when: the ball lands on the ground, or when an offensive player's flag is grabbed by a defending player.
After the ball is snapped to begin a play the defending team can call 5 "steamboats." Once 5 steamboats have been reached the defending team can elect to cross the line of scrimmage in an attempt to sack the quarterback by grabbing their flag.
Quarterbacks can only run once a defending team has crossed the scrimmage line.
The offensive team has four (4) downs to cover the length of the field and score a touchdown. If the offending team does not score than the defensive team takes over on downs.
When catching the ball in bounds, a player needs their first point of contact to be in bounds. Only one foot landing in bounds after a catch is needed.
Bookings begin at 1 hour in duration and is best suited for 12 or more people.
Facilitated
Facilitated football comes with our events facilitator to host your event. They'll be responsible for: engaging your group, organizing and coordinating games, any equipment, keeping score, and timing, among other things. Cost is $225-300+tax per field per hour.
Rental
Football rentals entails you'll have the field available for your time that was booked to do whatever activity you want on the field. If you need a football or flags they can be borrowed from the front desk in exchange for an ID. Cost is $165-$220+tax per field per hour.
For further pricing information or to book please call (416) 461-4400 or email us at saleem@ballsportspolsonpier.ca.
We're conveniently located just 5 minutes from downtown Toronto in the Portlands. 176 Cherry St.
Contact Us and Play!
For pricing information or to book call (416) 461-4400 or email us at
saleem@ballsportspolsonpier.ca
. All of our prices include field rental costs.